Updated: 8 min ago Status:

Active

/

Not listed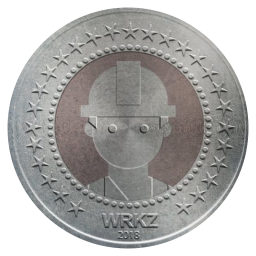 WrkzCoin
(WRKZ)
$0.00000024
(161% )
0 BTC
POOL MINING
DAY
Current Diff
DAY
1h AVG Diff
DAY
24h AVG Diff
WEEK
24h AVG Diff
MONTH
24h AVG Diff
Rewards WRKZ
4,536,461
4,728,850
4,338,210
30,367,469
130,146,296
Revenue BTC
0
0
0
0
0
Revenue USD
$1.09
$0.93
$0.42
$2.91
$12.5
SOLO MINING
DAY
Current Diff
DAY
1h AVG Diff
DAY
24h AVG Diff
WEEK
24h AVG Diff
MONTH
24h AVG Diff
WRKZ Blocks
53
55
50
354
1518
Rewards WRKZ
4,536,436
4,707,648
4,284,206
30,332,179
130,068,496
Revenue USD
$1.09
$0.93
$0.41
$2.9
$12.5
On 1 hour average network hashrate, on average you will find a block every 0d 0h 26m. Use SOLO mining ONLY if you could find few blocks daily. Hashrate you currently need to get block at least once a day on average 0.0011 Mh/s.
What does SOLO mining mean?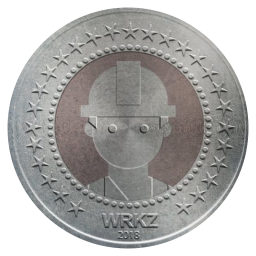 WrkzCoin
WrkzCoin is a cryptocurrency based on CryptoNote technology. Our goal is to build, create, and lead the next generation digital marketplace and eventually utilize a freelance work platform on which anyone can participate.
| | |
| --- | --- |
| Ticker | WRKZ |
| Announced | Jun 2018 |
| Forked from | TRTL |
| Hashing algo | CN Upx |
| Block time | 60 sec |
| Decimal places | 2 |
| Last reward | 85,593 |
| Current height | 1,263,365 |
| Historical data | JSON |
*Only coins listed on the Cryptunit are shown.
Supply: 500,000,000,000.00 Wrkz with 2 decimal places (Yes, Five Hundred Billion)
Emission speed: 22
Pre-mined: 3% (= 15 Billion) for future development
Difficulty target: 60 seconds
P2P port: 17855
RPC port: 17856
Genesis: June 24th, 2018
Digital source code marketplaces have grown significantly over the years and WrkzCoin looks to be involved in the ever growing atmosphere of the digital market.
Proof of Talk, Proof of Post, and Proof of Work: What do these mean to WrkzCoin
Proof of Talk
PoT has already been implemented into http://chat.wrkz.work. How it works is that we have a bot that will pay people a reward to talk with us there. If there has been enough activity a random chatter will find the reward, but if there is not much going on the bot will pick a random online user and give them 1/5th the normal reward. Reward is set to an emission speed of 18 so that they are constantly decreasing. PoT "blocks" are found every 10 mins.
Proof of Post
PoP is our goal for wrkz.work forum, where members will be paid out in WrkzCoin to work on code projects there and collaborate with other users of the Wrkz market platform. We want members to sign up with their Wrkz address and be able to earn coins for every post they contribute to our forum.
Proof of Work
PoW is our way of supporting the miners who secure our blockchain, rewarding them with coins for finding blocks.
WRKZ Wallpapers, Banners, Covers