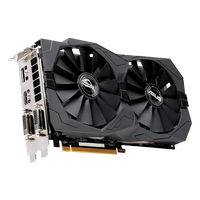 AMD 570 Hashrate
| Algo | h/s |
| --- | --- |
| Normal (ASIC) | 720 |
| Lite (ASIC) | 1,400 |
| NormalV7 | 720 |
| LiteV7 | 1,400 |
| Heavy | 558 |
| Haven | 558 |
| Fast | 1,368 |
| BittubeV2 | 558 |
| Alloy | 360 |
| B2n | 1,050 |
| Wchain | 0 |
| NormalV8 | 720 |
| Upx | 19,600 |
| Trtl | 5,320 |
| Fast2 | 1,368 |
| Gpu | 558 |
| Cceal | 1,368 |
| Graft | 720 |
| CnR | 720 |
| HeavyX | 335 |
| RXWow | 432 |
| RXL | 432 |
| DfX | 0 |
| ArgChukwa | 0 |
We never use or share personally identifiable information provided to us without your express permission.
User Reviews
Monday
June 17, 2019
By HakkenX
UPX = 22000 h/s
Saturday
June 8, 2019
By Argonator
Update for hashrate.
The RX 570 hashes about 5630 H/s on the cn-turtle algorithm with settings of stock amd intensity and no mods with xmr-stak 2.10.2.
Works great with ARQMA coin with their merged mining pools.
Monday
May 13, 2019
By JJY
Clock : 1190 / 2100, 970 H/S
Thursday
November 22, 2018
By VAS DERM
aeon coin is best for mining with AMD 570 (~~1,63 kh/s)
Saturday
August 18, 2018
By Crni
RX 570 4Gb

Cryptonight (v7) hashtare
990 hs (2 threads) - XMR Stak

Cryptonight Lite (v1) hashrate
1980 hs (2 threads) - XMR Stak

Cryptonight Heavy hashrate
740 hs (2 threads) - XMR Stak
Thursday
August 16, 2018
By Google Forms
RX 570 4Gb

Cryptonight (v7) hashtare
920 hs (2 threads) - SRBminer,PBE2.2 mod, mem 2050/850, 1200/875

Cryptonight Lite (v1) hashrate
1100 hs (2 threads) - SRBminer,PBE2.2 mod, mem 2050/850, 1200/875

Cryptonight Heavy hashrate
580 hs (2 threads) - SRBminer,PBE2.2 mod, mem 2050/850, 1200/875